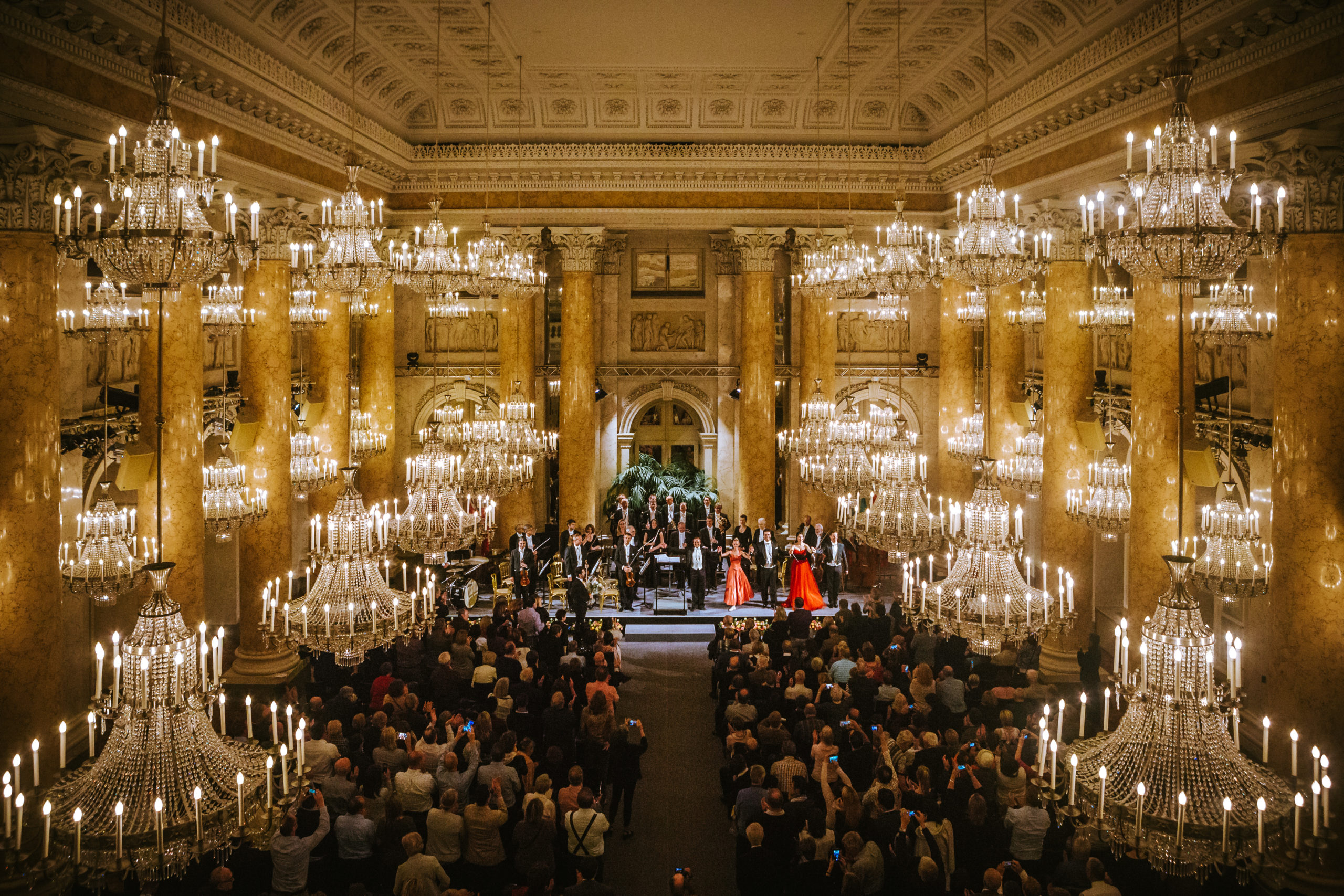 Hofburg Vienna – Ceremonial Hall
The ceremonial hall of the Vienna Hofburg was built from 1802 to 1806 under Emperor Franz I by the court architect Ludwig Montoyer in the classical style.
In 1810 Napoleon I chose the Ceremonial Hall for his courtship and to ask Emperor Franz I for the hand of his daughter Archduchess Marie Louise. Under Emperor Franz Joseph I and Empress Elisabeth, large gala evenings such as the "Ball at Court" were held here which was reserved only for the court and the high aristocracy.
The ceremonial room served as a throne room until the end of the monarchy in 1918.
Address
Heldenplatz

Austria
Details
Capacity: 492 guests
Barrier-free: yes
Air-conditioned: yes
Concerts in the Ceremonial Hall
Here you will find all the concerts of the Vienna Hofburg Orchestra that take place in the Ceremonial Hall of the Vienna Hofburg.
May 2022
June 2022
July 2022
August 2022
September 2022
October 2022
---
How to get there
The best way to get to the Hofburg is by underground or tram.
The next station is "Volkstheater", exit "Heldenplatz". The underground lines U2 and U3, as well as the tram and bus lines 1, 2, D and 71 arrive here.
From this station you will walk 500m across Heldenplatz to the main entrance of the Vienna Hofburg.
If you arrive by car, there is a paid parking garage at the Museumsquartier at Museumsplatz 1, 1070 Vienna.
From there you can reach the Hofburg after approx. 800m.
The main entrance of the Vienna Hofburg is located directly on Heldenplatz next to the Austrian National Library.
In rare cases, admission to the concerts in the Ceremonial Hall takes place via the ambassadorial stairs. These are located approx. 200m on the other side of the Hofburg and are also barrier-free.
Viennese taxis/cabs can be found at stands throughout the city or under the following telephone numbers: +43 1 31 300; +43 1 60 160; +43 1 40 100.