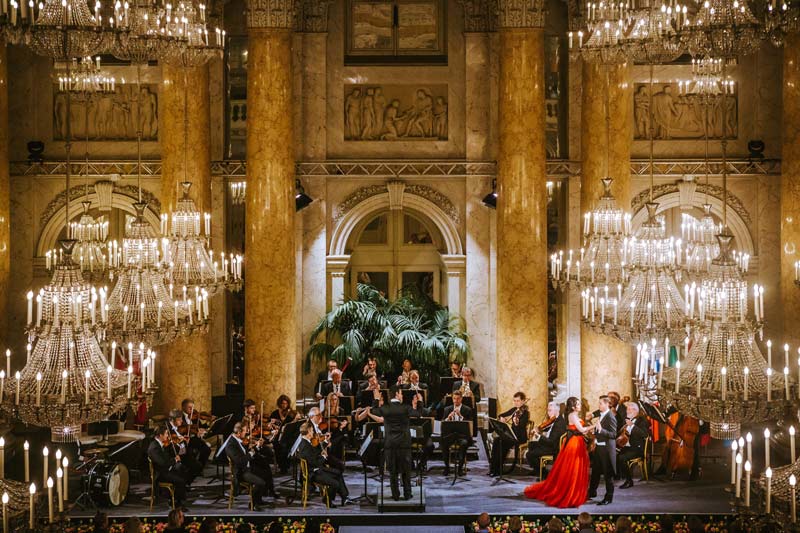 The Vienna Hofburg Orchestra presents the most popular compositions by Wolfgang Amadeus Mozart and the Strauss family as well as works by Kalman and Lehar in its Strauss & Mozart concerts.
The orchestra consists of up to 40 musicians and is accompanied by internationally renowned opera singers and classical ballet from Vienna's opera houses.
The concert takes place in the Ceremonial Hall (Zeremoniensaal) of the Vienna Hofburg Imperial Palace.
The Program:
From May to October, the Vienna Hofburg Orchestra plays the best-known works of Johann and Josef Strauss, lively operas and operettas, and duets by Wolfgang Amadeus Mozart, Emmerich Kálmán, and Franz Lehár. The orchestra accompanies internationally renowned opera singers and ballet soloists from Vienna's popular opera houses.
Just as Johann Strauss planned, and according to the tradition of all great Viennese orchestras, the musicians have prepared some musical jokes to delight the audience once again every evening!
---
The Ceremonial Hall:
The ceremonial hall of the Vienna Hofburg was built from 1802 to 1806 under Emperor Franz I by the court architect Ludwig Montoyer in the classical style.
In 1810 Napoleon I chose the Ceremonial Hall for his courtship and to ask Emperor Franz I for the hand of his daughter Archduchess Marie Louise. Under Emperor Franz Joseph I and Empress Elisabeth, large gala evenings such as the "Ball at Court" were held here which was reserved only for the court and the high aristocracy.
The ceremonial room served as a throne room until the end of the monarchy in 1918.
---
Details about this concert:
Concert duration: 90 minutes
Venue: Ceremonial Hall of the Vienna Hofburg
Address: Hofburg Vienna, Heldenplatz, 1010 Vienna.
Evening box opens: 1 hour before the start of the concert
Barrier-free: yes
Air-conditioned: yes
Seating: no numbered seats, you will be shown to your seat by the evening staff.
Dress code: smart casual is recommended.
Cancellation Policy: Full refunds are possible up to one week before the day of the concert. Thereafter, a cancellation fee of 50% will be charged. All cancellations must be made in writing.
June 2022
July 2022
August 2022
September 2022
October 2022
December 2022
January 2023