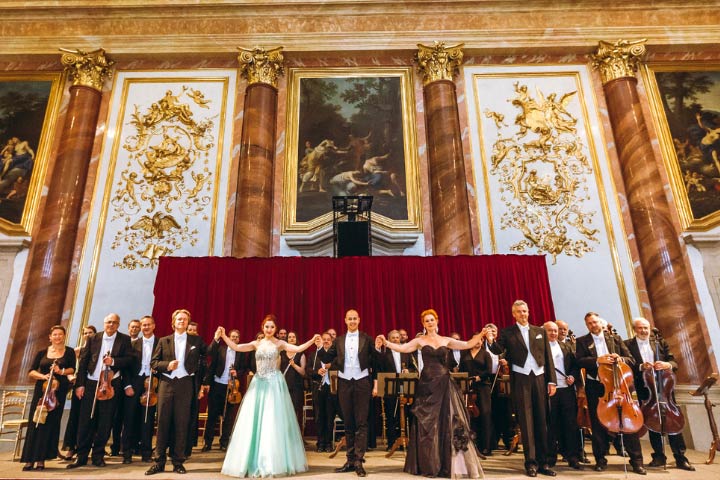 Experience the traditional New Year's Eve concert of the Vienna Hofburg Orchestra and enjoy musical fireworks in the magnificent Hercules Hall of the Liechtenstein Garden Palace.
Exciting waltzes, overtures and polkas by the Strauss brothers and Franz von Suppè are on the program.
In addition, four renowned opera singers will thrill audiences with arias, duets, and quartets by Franz Lehár, Johann Strauss Jr, and Emmerich Kálmán.
Book your ticket for 31.12.2023
As is the tradition, the Vienna Hofburg Orchestra plays the passionate and romantic melodies by Josef and Johann Strauss, Franz Léhàr and Franz von Suppé.
These include iconic works such as "Wiener Blut" (Vienna Blood Waltz) or the polkas "Ohne Sorgen" (No Worries) and "Eljen à Magyar".
You will enjoy popular arias from "Fledermaus" (The Bat) and "Csardasfürstin" (The Gipsy Princess), as well as the waltzes "An der Schöne blauen Donau" (Blue Danube Waltz) and "Frühlingsstimmen" (Voices of Spring Waltz).
The Hercules Hall of the Palais Liechtenstein is one of the most impressive baroque halls in Europe.
Like the rest of the palace, it was carefully restored between 2000 and 2003.
The Hercules Hall is 25 meters long and 16 meters high and can accommodate 560 guests.
The artistic highlight is the impressive ceiling fresco. Created by the Jesuit brother Andrea Pozzo, between 1704 and 1708, it depicts the heroic deeds of Hercules.
August 2023
September 2023
October 2023
December 2023
January 2024