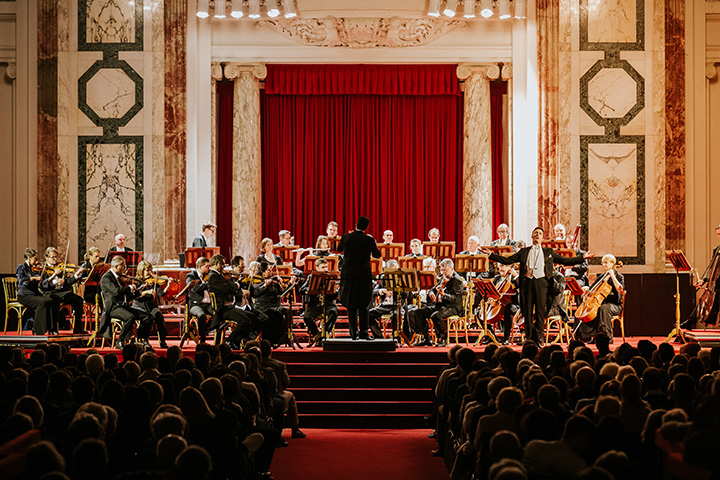 The Christmas concerts of the Vienna Hofburg Orchestra have a long and successful tradition in Vienna's cultural scene.
Every year on December 25th and 26th, the orchestra performs the most beautiful compositions by Wolfgang Amadeus Mozart, Johann Strauss and Emmerich Kalman in the large Festival Hall (Festsaal) of the Hofburg Vienna.
A unique concert in this incomparable Hall of the Vienna Hofburg, accompanied by the four international vocal soloists Sera Gösch, Rita-Lucia Schneider, Franz Supper and Michael Mrosek. The conductor is Giuseppe Montesano.
The Program:
In the program for the Christmas Concerts, Arias and duets by Wolfgang Amadeus Mozart inspire in this festive setting, while the unmistakable melodies of Franz Lehár, Emmerich Kálmanns, Franz von Suppés, and above all the Strauss family already prepare us for the end of the year.
The Vienna Hofburg Orchestra will accompany four opera singers of international renown.
Just as Johann Strauss planned, and according to the tradition of all great Viennese orchestras, the musicians have prepared some musical jokes to delight the audience once again every evening!
---
The Festival Hall:
The Festival hall (Festsaal) is the largest hall in the Vienna Hofburg with almost 1,000 m2.
The impressive ceiling paintings by the painter Schramm show the motto of Emperor Franz Joseph I. "Viribus Unitis" (With united forces).
Eduard Veith and Viktor Stauffer have immortalized personalities from Austrian history in the lunettes and octagon fields below.
The Festival Hall was originally planned as a throne room, but was never used in this form because the monarchy ended before its completion.
---
Details about this concert:
Concert duration: 90 minutes
Venue: Festival Hall of the Vienna Hofburg
Address: Hofburg Vienna, Heldenplatz, 1010 Vienna.
Evening box opens: 1 hour before the start of the concert
Barrier-free: yes
Air-conditioned: yes
Seating: no numbered seats, you will be shown to your seat by the evening staff.
Dress code: smart casual is recommended.
Cancellation Policy: Full refunds are possible up to one week before the day of the concert. Thereafter, a cancellation fee of 50% will be charged. All cancellations must be made in writing.
December 2022
January 2023